Customer reviews
Quelques points à améliorer. Si le site est joli, il mériterait néanmoins quelques efforts pour être pleinement mis en valeur. On a passé un agréable séjour. Les chambres sont jolies, bien que désuètes et les finitions sont très moyennes. Petite odeur de canalisations franchement désagréable malheureusement. . Pour le petit-déjeuner, on repassera, car malheureusement en France on ne sait plus faire de pain. Tout est précuit. Une catastrophe ! Accueil en peu guindé et emprunté, mais gentil et serviable.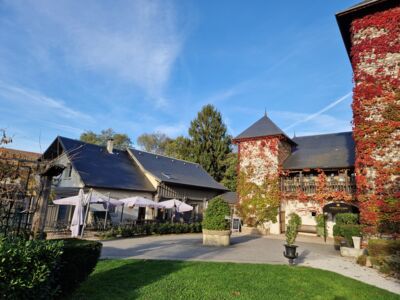 Expérience fabuleuse dans un Chateau. Ce n'est pas tous les jours que l'on peut manger dans un Chateau, alors on en profite ! Je l'avais fait à l'époque où on pouvait encore...
Beau chateau !. Un château qui vaut le déplacement. Une merveille à visiter. On a adoré !
une merveille!. très beau chateau qui mérite d'être vu et visité! très bon moment passé à l'intérieur de ce joyau d'architecture tout simplement sympa!
un chateau magnifique. le séjour est parfait le repas, les chambres, le parc à visiter tout est parfait pour un dépaysement total
belle surprise. je ne m'attendais pas à ça mais c'est une vraie belle surprise, j'ai pris un vrai plaisir pendant mon séjour gourmand, la chambre et les repas sont au top et le coin est vraiment à voir, c'était simplement cool
Do you know Le Château de Candie ?
Share your experience with the visitors who are interested in this establishment.
Le Château de Candie
Sequestered close to the town of Chambery; the Château de Candie is considered to be one of the most enchanting buildings in the local area. With architecture dating back to the Middle-Ages, the castles construction commenced in the village of Chambery- Le Vieux, which is today known as one of the oldest villages in Savoie. This hidden gem is perched atop a hill and is surrounded by a hundred year old forest and vineyard. The 6 acre castle grounds include a panoramic view of Chambery and the mountains beyond; a scene guarantied to invoke a sense of tranquility. Whilst being rich in history and surrounded by natural beauty, the castle additionally includes touches of contemporary flare. Despite the modernist aspects, the various owners of the castle have nevertheless put both their heart and soul into the conservation of the castles original charm and antiquity. Why not join us for a visit and relax with a homemade cocktail by our pool, allow yourself to enjoy a warm tea in our cozy bar or let your taste buds be taken on a sumptuous journey in our bistronomique or gastronomique restaurants. Indeed at Chateau de Candie every room is unique, every object has a story and every step you take will lead you to new discoveries. Whether it's for business, for leisure or for relaxation our team at Chateau de Candie is here to welcome your arrival with pride. We look forward to seeing you soon.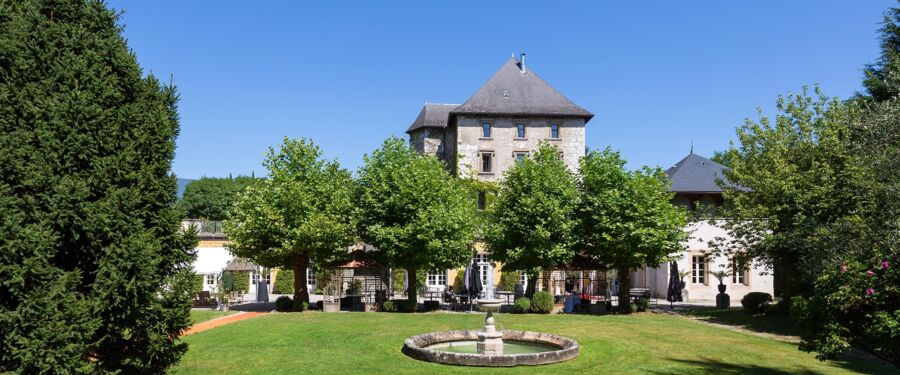 Le Château de Candie
533 Rue du Bois de Candie
73000 Chambéry
How does it work?
I choose
and personalise my gift card directly online
I receive
the gift card immediately by email or by post
The beneficiary book
the slote directly with the establishment